Hey Friends!
Today I linked up with...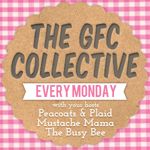 I know, I know. It says Monday. But I know with my crazy mama-brained self, if I didn't actually go ahead and do it while I was thinking about it, I'd end up forgetting. And this is definitely not something I want to forget. So, here's to making new blog friends! Can't wait to get started hopping!
Now, on to our Christmas tree...
Hi. My name is Maggie and I'm addicted to Christmas. Seriously. It's a problem. I can't stop buying presents, or wrapping paper, or ribbon, or gift tags, or decorations... the list goes on and on. This season is going to be the death of my bank account. I think I'll blame Hobby Lobby for it. And Target. And Pier 1. See what I mean? I can't stop myself!
And now that I have our baby bug to spoil this Christmas, it's gotten even worse. I ran into Walmart to grab one thing. Toilet paper. That was it. I came out with a brand new toy for this little guy to have on Christmas morning.
One of the most fun and exciting things we've done this season is picking out our Christmas tree. My Mr. and I normally have a fake tree, but this year we wanted the real thing. So far we haven't regretted it. We found a fun Christmas tree farm where you can cut your own tree, but we decided to go with a pre-cut Frasier Fir. I love, love, LOVE those trees. They are so pretty and full and smell absolutely delicious.
I just love this little boy to pieces.
Clearly we are on the good list. Santa doesn't let just anybody sit on his sleigh! :)
Anyone that knows my Mr. knows how much he loves the Vibe. It's a part of our family now.
We even got the Christmas tree guy to slice off the bottom so we can make one of those ornaments floating around Pinterest. I can't wait to get on that!
Here's the sad part of this post. I forgot to take a picture of our tree before they packaged it and I still haven't taken one of the whole tree now that it's decorate. But- there will be a post coming soon with pictures of our beloved tree. I just can't wait to share it with you.